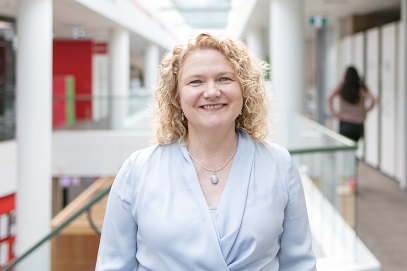 To celebrate Techweek 2019 (20-26 May), we're putting the spotlight on life in tech at The Warehouse Group. Here, Elizabeth Coulter, Head of Tech Solutions for Business at Noel Leeming shares her perspective on being a woman in tech, the experiences that have shaped her career and what can be done to get more women interested in the field.
Q. Tell us about your current role?
I lead a team of IT Engineers and professional services experts who provide IT, Cloud and end-to-end support services for businesses. We assist with advice, implementation of technology change, and help support their new technology whether it is in the Cloud or on their premises.
Q. How did you discover, and then turn into a career, your interest in technology?
I grew up in the 1970s/80s. My school was one of the few in Brisbane which had its own large computer. I learnt programming using a pile of cards. Then, encouraged by my father who was a key figure in IT in Australia, I studied IT at the University of Queensland. I was one of 13 women in a class of 300. My career continued as I moved to London and increased my experience in technology and support roles. Once back in Australia, I moved into Project Management and found myself growing into management positions. I undertook an MBA and have since grown my career in more customer focusing management roles.
In my current role I hope I am helping to contribute to the NZ economy, helping small to medium organisations. I enjoy being part of The Warehouse Group and Noel Leeming in a culture that is very supportive of diversity and innovation.
Q. What is your why? What drives you to succeed in Tech?
I like to help organisations understand how they can use technology to innovate within their business. I have watched technology become more and more integrated with our day-to-day world and to organisations and their success. It is exciting to be involved in this industry.
Q. How easy was it to develop and progress in an industry that is traditionally very male-dominated?
Having started as 1 of 13 women in a class of 300, I think I have just taken it as the norm in the past. You do see unconscious biases coming through. For example, I have seen males in the room not asked the same questions as the females. I think it is also more difficult for women in their careers as they get older. Research has shown that many women in Technology drop out in their 50s. As I have gotten older, I see the importance of promoting more women into the industry and providing support for women so they stay in the industry.


Q. What does the industry need to do to encourage women into the technology sector?
It starts with culture and good female role models. Technology needs to be seen as a career choice for women, supported by strong mentors and role models. Study programmes need to be designed to support the strengths of women in technology, as well as men and it would help if the importance of diversity and presence of unconscious bias is taught to both males and females, from a young age, through their studies, as well as in the workforce.
Q. How does the lack of diversity impact the Tech industry?
We are seeing examples in the industry of where lack of diverse thinking produces results which replicate the unconscious bias and views of those developing these environments. So, as we move more into the use of artificial intelligence and machine learning, it is important to form agile, diverse teams to ensure we are not continuing to develop technology based on non-diverse thinking.
Q. What initiatives have you seen or led that have helped tackle inequality in the workplace?
While Director, ITS, at the University of Auckland, I setup a Women in IT programme to provide support and mentoring across the professional IT staff at the university. This programme and the conference are still running and I continue to provide support for it.
In the wider university sector, I led the inclusion of statistics in university benchmarking across NZ and Australia to include measuring the % women in Tech and provided ideas on increasing rates of participation by women. I also continue to participate in events to speak on this topic including participation in programmes for The Warehouse Group.

Q. Who inspires you in Tech & why?
My father inspires me. He was a pioneer of IT and the internet in Australia and always believed in diversity and supporting women in technology.
Some people in the NZ industry who have been particularly inspirational include Dr Michelle Dickenson and Francis Valintine, for the active work they do to inspire girls into IT and the support they give to women in IT. Julia Raue, who is on The Warehouse Group Board, has also inspired me in the way she approached technology and innovation at Air New Zealand, as well as how she supports women in technology.
Learn more about supporting women in tech at the following websites:
Back to news
Subscribe for news updates