As an ethically responsible organisation with a presence in several developing countries around the world, The Warehouse Group is committed to the safety and wellbeing of all our workers, whether they reside here in New Zealand or far beyond its shores.
One of the ways we're committing to this is through our partnership with Nirapon, a newly-established organisation based in Dhaka, Bangladesh. Nirapon was developed by former members of the Alliance for Bangladesh Worker Safety after the Alliance ended its operations in 2018.
This new initiative aims to sustain to the culture of factory safety in Bangladesh by overseeing the ongoing safety, training and helpline efforts of factories operated by members of Nirapon.
In order to do so, the organisation monitors the factories from which its member brands source to verify that they're following agreements made in three key areas:Continuing to meet the National Action Plan standards for physical safety (structural, fire, and electrical); have implemented standardized training programs focused on worker safety; and continue to make the helpline service available to their factory workers.
The Warehouse Group sources clothing from sixteen factories in Dhaka. To Trevor Johnston, Head of Ethical Sourcing at The Warehouse Group, it's a no-brainer that The Group should be involved with and supporting Nirapon however it can.
"We have a responsibility to the people within these factories and the region as a whole to do our part to ensure they have a safe, ethical working environment," says Johnston. "By collaborating with other Nirapon members we can provide building and worker safety services to our suppliers that we could not deliver on our own. Nirapon can help our teams based in Dhaka monitor and report on the safety in our factory environments and make informed decisions related to the health and safety of workers in those factories. It's a valuable resource and one we're proud to be members of."
In order to ensure the reports are conducted without bias, the factories work directly with vetted Qualified Assessment Firms (QAFs). The QAFs carry out the routine inspections while the factories and their consultants will perform routine maintenance and any needed remediation. All reports from the QAFs, as well as bi-monthly maintenance reports from the factories, will be sent to Nirapon.
"Through Nirapon, member brands have committed to maintaining high standards of safety in the Bangladesh factories from which they source," says Moushumi Khan, CEO at Nirapon. "Organisations like The Warehouse Group that are members of Nirapon are doing their part to ensure that factory workers are safe, have adequate training and support and can work with peace of mind knowing that their safety at work is a priority."
The partnership with Nirapon is another way we're actively supporting and looking out for the workers in the factories we operate with. Our recently announced partnership with HERproject helps women in two Dhaka-based factories get access to training and education around personal finance, family planning and more. Learn more about the partnership here.
How Nirapon works: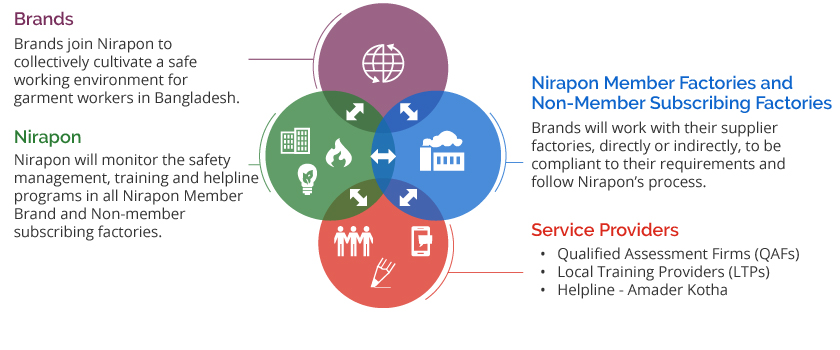 Back to news
Subscribe for news updates