33 communities around New Zealand are now cleaner thanks to store teams from across The Warehouse Group who bundled up and pitched in to participate in the Great Community Clean Up. Nearly 300 employees from Noel Leeming, The Warehouse, Warehouse Stationery and Torpedo7 stores around the country participated in this month's clean up event to help beautify their local communities.
Teams identified areas in need around their stores including beaches, parks and parking lots and came together to make an impact. From bottle caps, to car batteries and everything (we mean everything) in between, our teams found and collected hundreds of kilos of rubbish.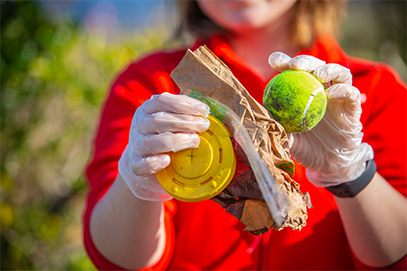 The Warehouse Richmond Availability Manager, Thomas Hayes, says his team felt a strong duty to give back to his local community. "When I heard about the Great Community Clean Up, I knew the whole team would love to roll their sleeves up and get stuck in to help keep our local environment beautiful," says Jason. "We chose to clean up the reserve because it's an important hub for the community, and we believe in doing our bit to keep New Zealand clean and beautiful."
David Benattar, Chief Sustainability Officer at The Warehouse Group says that while the prevalence of litter across the country is disheartening, he's proud to be part of the change. "We're an organisation that's passionate about being Here for Good, and events like this are a great way to live out our values and show that we're walking the talk," says David. "Our teams have shown the impact that just one hour of effort can produce. Imagine what our country would look like if all New Zealanders beyond our organisation were given the opportunity to volunteer one hour, too."
Of the items collected, cigarette butts, fast food wrappers and plastic bottles were the most popular items found during the clean-up, which unfortunately isn't an uncommon sight in New Zealand. According to the National Litter Survey developed by The Packaging Forum, drinks-related packaging represents 23% of litter items found in New Zealand communities.
Actual beverage containers represent 10.1% of litter found in New Zealand, while disposable cups, lids and straws represent 5.1%. Other drinks-related packaging, such as bottle tops, represent 6.5%. Food packaging represented 17% of litter items which includes snack food and fast food packaging.
Teams from The Warehouse Group Store Support Office visited Lake Pupuke outside of Auckland as part of the clean-up event. Learn more about how much rubbish they collected by watching the video below.

Back to news
Subscribe for news updates