Looking to get outside and explore more this winter? Got to Get Out can help with that. Torpedo7's partnership with the outdoor experience club has kicked into high gear with 33 free events since the launch this March, and plans for 150 events this year alone.
Recently, the Nelson Torpedo7 store held a hiking event at the Sir Stanley Whitehead Park for over 25 attendees made up of both Torpedo7 team members and the public. The event was guided by Got to Get Out founder Robert Bruce, who started the programme in 2014 with the hope of getting New Zealanders off the couch moving.
"My mission for the programme is to get people active and outdoors with their friends in this beautiful country of Aotearoa," says Bruce. "I think most people acknowledge that getting outdoors is good for their wellbeing, but arranging the trips, especially as a first timer can be daunting, so that's where Got to Get Out comes in.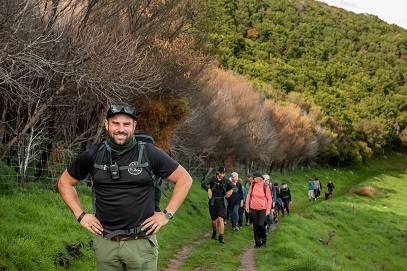 The partnership is just one way The Warehouse Group looks to support its team members' health and wellbeing. The Group's lifestyle leave policy and efforts around introducing E-bikes at the Auckland Store Support Office aim to help team members stay active and keep their wellbeing in check.
Torpedo7 and Noel Leeming CEO Tim Edwards says he's proud of the growth of the programme, adding "I'm thrilled to see the strong turnout for these events so far. It's clear there's demand for this kind of programme and I know it will continue to inspire our team members and all Kiwis to get up and get out into the outdoors."
Mitchell Canton, Assistant Store Manager at Torpedo7 in Nelson, says that the programme is a great step in the right direction. "It's monumental. It's exactly what we've been striving towards for years: getting everyone that we possibly can to get out there," says Canton.
From hiking and biking to paddle boarding, skiing and snowboarding, the programme offers both Torpedo7 team members and members of the public to free, guided events around the country.
Want to get a feel for the events first-hand? Check out this recap video of the Nelson event.
To find an event near you, visitwww.torpedo7.co.nz/club/experiences.

Back to news