The future of transportation has arrived at The Warehouse Group.
Today, we're excited to share that our commitment to transition 30% of our light vehicles fleet to Electric Vehicles (EV) by end of this year (as announced in 2016) is on track. To date, 60% of our cars have been ordered and allocated to us, which equates to 43 of the 70 total vehicles which will be replaced.
This means 70 vehicles, which account for 360 tonnes of carbon emissions each year, will be replaced.
Deployed throughout the country, our branded EVs will be a visible proof point of The Warehouse Group's commitment to reducing emissions and being #HereForGood.
So why EV, and why now? As we announced earlier this year, our three-pronged approach to achieving carbon neutrality includes emissions reduction, as well as native forest regeneration and carbon credits. We are committed to reducing our group carbon emissions by 32% by 2030 and are the first large company in Australasia to be certified Carbon Neutral.
With transportation being the number one source of greenhouse gas emissions growth in New Zealand, taking a critical look at how our actions as one of the largest organisations in the country is paramount.
"EV is the most symbolic way of moving to an eco-efficient, high-tech enabled society. The time is now to make radical change and hopefully spark a ripple effect," says David Benattar, Chief Sustainability Officer at The Warehouse Group.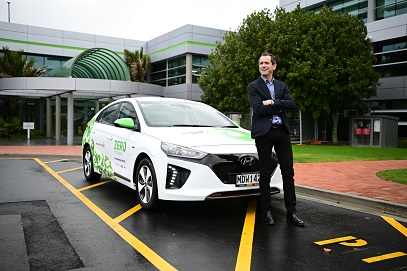 For the initial phase of this roll-out, we've identified the Hyundai Kona and Ioniq models for their mileage range and ease of use. We're always keeping ear to ground on new technology and possibilities for the use of EV across the organisation, including looking beyond light commercial fleets to heavy vehicle solutions as well.
A project like this is an immense undertaking from a logistics and planning perspective, but one that Mary Darlow, Procurement Manager at The Warehouse Group was proud to take on.
"There are so many factors at play when rolling out a project of this scale. Beyond just the cars, we have to ensure that drivers will have adequate recharging facilities, and have the right training – not just in vehicle use, but also planning and technologies around moving from A to B. It is a different way of thinking," says Darlow. "But the pay-off from an emissions reduction perspective is incredible, and beyond that it's just the right thing to do as an organisation."
We're far from being alone in taking big steps towards a better future.
From the roads to the skies, EV technology is being harnessed like never before.
In Norway, EV sales will eclipse 50 percent of the automotive market this year, thanks in large part to incentives like reduced tolls, lower fuel costs, and preferred parking for EVs. The country also has an ambitious plan to end sales of non-electric vehicles by 2025.
In France and Germany, finance ministers announced a $8.5 – $9.5 billion investment in finding better solutions for longer lasting EV batteries.
The sky is no longer the limit when it comes to finding more uses for EV technology, as companies and start-ups explore the future of more sustainable aviation. Using electric planes could cut global aviation's carbon emissions substantially, and Norway is once again setting an ambitious goal of all short-haul flights being 100% electric by 2040.
There are currently 13,659 EV cars registered here in New Zealand. With more than 80% of our electricity being generated from renewable sources, we are perfectly placed to benefit from the use of EVs.
With the Government's goal of reaching 64,000 electric vehicles on our roads by the end of 2021, it's time for New Zealand to think boldly and broadly about how we can all work together to accomplish it. There are already a few incentives for drivers to make the switch, but more needs to be done.
Should we charge congestion fees like in America? Should Auckland Transport and councils beyond the North Island make transit lanes specifically for EV?
We don't know all the answers to these questions, but we do know that taking these first steps towards a future focused on EV will help us get there.
Back to news