With World Wellbeing Week upon us, it's timely to think about all the ways we can better the lives of our team members through wellbeing practices. In honour of the week, we're taking a look at what we currently offer our team in the space and where we'd like to focus our energy in the future.
As New Zealand's largest general merchandise retailer, we have a commitment to building and supporting our people's mental wellbeing and resilience, and beyond that, their whānau and the communities we exist in.  
We're increasingly moving to improve our focus on prevention rather than the proverbial ambulance at the bottom of the cliff. To accomplish this, we look at our work in the wellbeing space with three key areas in mind: mental wellbeing and resilience, physical and financial.
Mental wellbeing
As Terry Johnson, GM of Health, Safety and Wellbeing sees it, once our team members have a strong sense of resilience and the tools they need to address mental wellbeing, they'll be able to tackle the issues they may be facing in other areas.
"Our work in this area is about helping our team members ask themselves, 'how do I get my mental wellbeing right so that I can make changes, recognise that I need to do something different and start doing it?', says Johnson. "By having a toolkit of resources for our team, we're able to give them the tools they need to succeed not only in the mental wellbeing space, but across the physical and financial wellbeing areas as well."
The Warehouse Group currently offers a robust Team Member Assistance Programme through OCP, including free counselling sessions with a qualified counsellor for a variety of issues. We also are continuing to provide team member assistance programmes for people who need help now whether it's work related or not, and also offer the opportunity to take leave to support family members or colleagues experiencing mental distress.
Wellbeing also involves feeling safe and supported, which is why we offer discretionary sick leave for our team members. We have been acknowledged for our efforts to reduce family violence and were a key supporter of the Government's Family Violence Victims' Protection Bill. We were also the first organisation in New Zealand to become White Ribbon accredited in 2017.
In July, we'll be launching an app supported by Sir John Kirwan's company Mementia which will support wellbeing learning of all team members who download it. This app will enable our team to seek out tips and help to address wellbeing issues, with an initial focus on how to change your own mindset when dealing with anxiety, and how to cope with change in your professional and personal life.
Physical wellbeing
Over the last few years, we've proudly rolled out programmes to better the physical health of our team members and their families. Initiatives like the smoking cessation programme have made tangible differences in the lives of our team members.
We're constantly evolving the programmes we offer relating to physical wellbeing to ensure we're staying ahead of the curve. Torpedo7 Club's partnership with Got to Get Out is a prime example of this.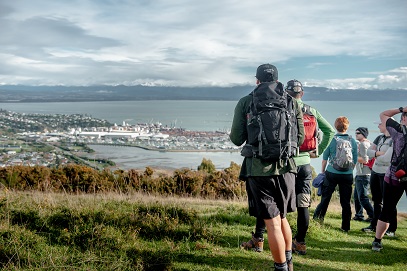 The partnership, announced earlier this year, builds on our Here for Good approach by inspiring team members and our customers to get outside and explore something new. From snowboarding sessions to group hikes, the outdoor experience club has events for people of every level of fitness and a variety of interests from Torpedo7 store locations around the country.
Our lifestyle leave policy also supports mental health and enables our team to purchase five to ten days additional leave a year to pursue personal interests and passions.
Wellbeing and the community
We acknowledge that there are many different opportunities and solutions within the physical and mental wellbeing spaces, and that what's right for one team member or group of team members might not necessarily be right for another. That's why we're continually looking to support the things that can have the biggest effect on the largest populations of our ethnically and geographically diverse team.
To help us understand the needs across the organisation, we are establishing a reference group made up of team members who can serve as mental wellbeing and resilience sounding board. These people will enable us to bounce ideas off them, gain valuable feedback on how we're going with our programmes and provide insights into what our team members truly need.
Financial Wellbeing
Financial wellbeing plays just as big a role in overall wellbeing as the mental and physical areas. With this in mind, we look to provide more proactive solutions for our team.
Currently we offer discretionary leave for cases of sickness which can help alleviate financial stress during a time of need. We also offer our team members access to discounted health insurance through Southern Cross Health Society, which is an important step in protecting our team members and their immediate family against the costs of unexpected medical expenses.
Through OCP we offer the ability for people to access help in budgeting and managing their finances, as well as discovering which Government programmes or subsidies might be right for their situation.
Team members are also provided with a team card to enable discounts at our major brands, which helps to further enable our team to purchase products which drive their personal wellbeing journey; e.g. buying some outdoor gear at Torpedo7 to get active and socialise with friends.
The role of company culture
Part of feeling well and having resilience is having a sense of belonging and being supported.
Our policies and processes provide the options people can take within each wellbeing category to receive support, but to many, it's our culture that creates a sense of belonging, whānau, friendship and ultimately, the desire to look after and help each other.
"There's a lot that's already being done across not only the organisation, but across the country as well to address these issues on a national and local scale. The key is to find where the gaps are so we can better serve our team and their communities," says Johnson. "We have an exciting role to play in closing those gaps and beingthe change we want to see for New Zealand."

Back to news
Subscribe for news updates