It's been a whirlwind of a week for The Warehouse Group as our Noel Leeming and Torpedo7 brands celebrated opening stores in Auckland's at premium shopping and lifestyle destination, Westfield Newmarket.
Both stores are examples of world-class shopping venues, featuring innovative, forward-thinking tech and customer experiences.
The new Noel Leeming flagship store includes cutting-edge tech and premium offerings never-before-seen at a New Zealand consumer electronic store.
The experiential store will feature exclusive products, immersive in-store experiences and Noel Leeming's newest employee, digital human Nola. Created in partnership with leading AI providers UneeQ and Jade, Nola will be one of the first human-like interfaces backed by artificial intelligence in a New Zealand retail store.
Nola will be instore to help shoppers navigate the store and answer questions they may have. Her knowledge and expertise will develop through customer interactions over time.
Noel Leeming CEO, Tim Edwards, says the new Noel Leeming store is set to offer Kiwi shoppers a look into the future of retail in terms of store design and technology product offerings.
"We're excited to deliver this technology to our customers, and to see how Nola can help enhance their in-store experience. Noel Leeming is known as leaders in innovation and technology and to be pushing the boundaries of how technology can create amazing customer experiences using Nola is a fantastic step for us," he says.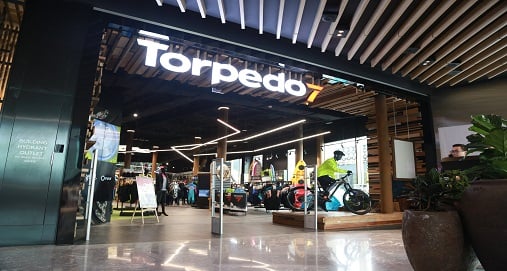 Just a few metres away from Noel Leeming sits the new Torpedo7 Newmarket store. Showcasing innovative retail design, the new Torpedo7 store has opened its doors to reveal a specially curated selection of adventure gear and apparel set to kit out Kiwis ready to take on the outdoors.
Not only about encouraging New Zealanders to get out there, the new Torpedo7 store encompasses sustainable touchpoints within the retail design. The new store includes recycled materials in the store design and development process, with repurposed single-use plastic bags transformed into counter top panels.
The store makes the most of new technology, with an augmented reality app that provides a 3D model of tents that customers can walk into and see their scale applied to a real-life situation.
The app will initially feature eight different tent models that Torpedo7 staff will be able to share with customers, highlighting the key specs, features and benefits of each model.
Torpedo7 CEO, Simon West, says, "We've carefully crafted this space with a selection of gear to support Kiwis getting out there and lead a healthy lifestyle."
"The store will still feel like Torpedo7 but will showcase our outdoor offering like no other location. Outdoor enthusiasts can custom build bikes with the Trek Project One space, or select an e-bike for getting around the city."
The Newmarket precinct has been designed to cater for a new generation of inner-city dwellers, and our new stores fit the bill perfectly. Plan your trip to Westfield Newmarket and learn more here.
Back to news
Subscribe for news updates