Permission to compete in the retail market will increasingly rely upon retailers' commitment to get closer to their communities, says the CEO of The Warehouse and Warehouse Stationery, Pejman Okhovat.
Speaking at the Retail & FMCG Leadership Summit yesterday, Okhovat said that his company's mission to improve the lives of Kiwis wasn't a slogan for a corporate brand but part of everyday operations of his stores and his team as they sought to make a difference to improve the lives of New Zealanders every day.
In a presentation called 'Retail with Soul', he began by sharing with his audience a story about member of the public who was in stress, looking for help.There was no one around, but then the person saw a red shirt hanging on a clothes line, and went to that house for assistance and help.
"That's a special story to me and to all of us, just a bit of a sign that our team members are really part of the community. Always ready to help out. That's what retail with a soul means to us," he told his audience.
Good products and service would always be important, said Okhovat, but ever more important was demonstrating to customers that the organisation itself was part of improving peoples' lives, and making the world a better place.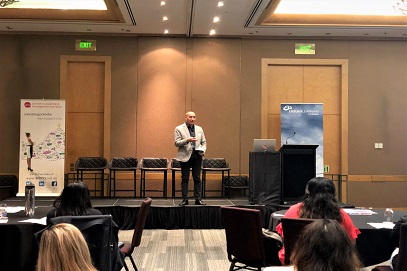 "We are really committed to this," he said. "Our team members, customers, stakeholders and society care about it, and we appreciate the guidance we get from everyone. It is a big responsibility for us, and I believe it keeps us grounded – down to earth."
It was this philosophy that resulted in The Warehouse paying a Career Retailer Wage rather than minimum wage, and developing initiatives like Red Shirts in Schools and Red Shirts in the Community – to support youth employment – as well as its community partnerships with organisations like Women's Refuge in tandem with its Domestic Violence Policy
Okhovat said a major focus more recently had been on moving to a more sustainable way of operating, including reducing energy consumption and waste, increasing recycling and, as a business, committing to being carbon neutral business.
"The Warehouse has been tracking and reporting on its carbon emissions since 2009, and Warehouse Stationery has been doing the same since 2015. The Warehouse Group across the board has a target of a reduction of 32% on 2015 emissions by 2030. This target reflects the 2015 international agreement to keep global warming under 2.0%."
Introducing electric vehicle charging stations at The Warehouse stores had so far supplied around 30,000 kilometres of travel to EV owners, saving close to 7,500 kilogrammes of carbon dioxide.
Support for ethical fashion was another focus. The Warehouse's private labels like Garage and Active Intent were designed in New Zealand and produced by suppliers in China and Bangladesh.
"Since our ethical sourcing programme began in 2004, we've worked hard to improve workers' rights including fair pay and effective health and safety programmes, and made sure the worst kinds of labour practices aren't allowed in our suppliers' factories. We can see around 99% of what happens in our supplier factories, but that last 1% is really important for us to achieve, and we're still working towards a 100% ethical fashion range," he said.
Another key element in building trust with customers in recent years had been the company's move to Every Day Low Prices (EDLP), which continued to embrace The Warehouse's commitment to bargains, but was focused on more stable and transparent pricing model – critical to competing in a digital retail environment.
Okhovat said The Warehouse made decisions every day from the perspective of being a 100-year company, one that is 'Here for Good' for New Zealanders. "That's the kind of company we want to be. It's the kind of company we need to be."
"Our competition lives and trades locally, internationally and borderlessly. Sitting around and thinking we have the benefit of distance from the rest of the world to protect us from these changes is the easy thing to do, but it's not the right thing to do," he said.
Okhovat said with a store in every New Zealand town of more than 50,000 people, The Warehouse and Warehouse Stationery were within 20 – 30 minutes drive of almost every New Zealander. Nearly every New Zealander walks through the doors of The Warehouse at least once a year.
"To help New Zealanders live better lives, and for our country to flourish, we must play our part. We must be prepared to work hard. Then you can see where your soul is. You'll find your purpose and your mission," said Okhovat.
Back to news
Subscribe for news updates