For many New Zealand families, home is unfortunately not the safe haven it should be.
There are countless statistics and reports that shed light on the issue that's embedded in communities around New Zealand. A 2017 study shared by the New Zealand Family Clearinghouse found that responding to family violence accounts for 41% of a frontline Police Officer's time.
In 2016, Police investigated 118,910 incidents of family violence, or one every five minutes. It has also been found that a staggering 76% of family violence doesn't get reported.
To raise awareness of the issue and highlight the work that Plunket, The Salvation Army and Women's Refuge do to support victims of family violence, The Warehouse and Warehouse Stationery have launched the Safer Families campaign.
The campaign aims to raise money to enable those charity partners to continue to provide resources and support to those who need it most.
"When you see the facts and figures of family violence in New Zealand, it's really quite shocking," says Bronwyn Clayden, Community Partnerships Manager at The Warehouse Group.
"Plunket, The Salvation Army and Women's Refuge do invaluable work to support the real people behind those statistics. It's our hope that with more awareness around this issue in New Zealand, we'll be able to prevent it from happening in the first place."
The fundraising campaign runs from August 5th – 25th at all The Warehouse and Warehouse Stationery stores. Customers are encouraged to donate $1 at check out or purchase a reusable canvas tote bag (below) designed especially for the campaign for $3.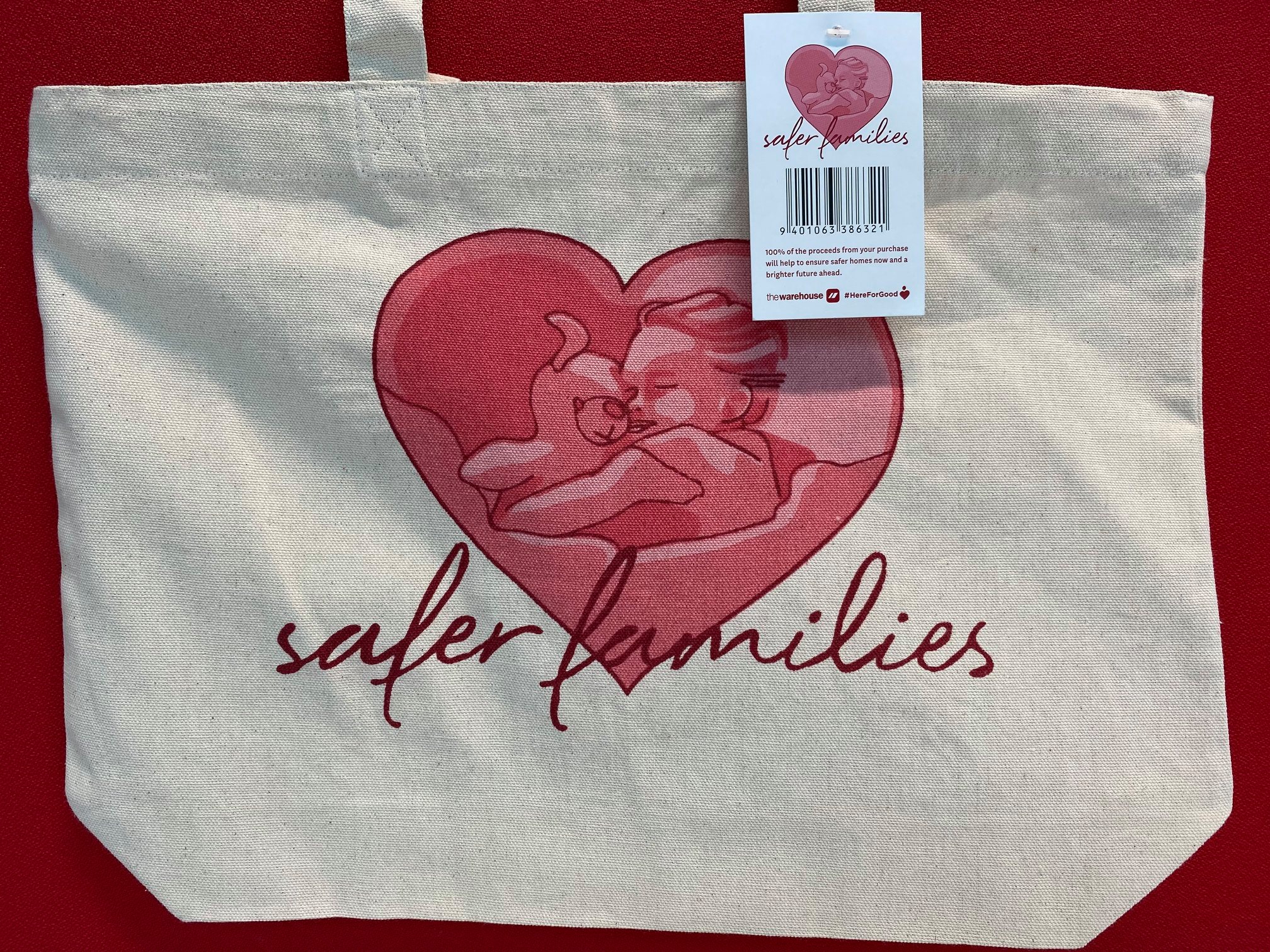 The Warehouse Group has a long history of supporting victims of domestic and family violence in New Zealand. In 2015, we put a domestic violence policy in place for all of our team members. This policy provides affected team members with up to 10 days' worth of paid leave and counselling support, as well as training for managers to help them support victims of domestic violence when they speak out.
In 2018, we helped guide the creation of the Government's Domestic Violence Victims' Protection Bill. The bill requires New Zealand employers to give victims of domestic violence up to 10 days paid leave from work, separate from their annual leave and sick leave. It also allows victims to request flexible working conditions and prohibits discrimination against them.
We also joined seven of NZ's largest employers (TWG, ANZ, Progressive Enterprises, Vodafone NZ, Fonterra, Ricoh NZ, and EY) and the Human Rights Commission to draft a family violence policy template for all businesses to use if they wish to.
The Warehouse Group also supports the Breakthrough programme created by the Salvation Army and Parenting Place, which aims to break the cycle of family violence by focusing on offering support and education to males and father figures across Aotearoa.
Back to news
Subscribe for news updates