Currently, only 3.7% of New Zealanders speak te reo Māori. As New Zealand's largest general merchandise retailer, with 98% of New Zealander's shopping with us at least once per year, we have an amazing opportunity to help improve that statistic by strengthening our use of te reo Māori.
In honour of Te Wiki o te Reo Māori, the 9th – 15th of Mahuru (September), we've been working behind the scenes ensuring our team members and customers around the country have the opportunity to utilise te reo Māori more often in their daily lives.
Evelyn Ross, Chief People Officer at The Warehouse Group, says that events like Māori Language Week, "Are the perfect opportunity to renew our focus as an organisation on the cultural activities that matter to our people the most."
"While Māori Language Week may officially just be one week out of the year, the language deserves to be highlighted and incorporated into the lives of all Kiwis year round. We're excited to be getting our team members from our stores, our distribution centres and our Store Support Office involved in the continued celebration of te reo Māori," says Ross.
In our brand stores around the country, customers have been able to engage in all things te reo Māori, from our built-in cooking centres in Noel Leeming, to our inspiration stations in Warehouse Stationery and Kapa Haka performances in The Warehouse locations.
11 of our The Warehouse stores around the country already have dual signage of both English and te reo Māori. At our Store Support Office, we have installed signage around the office, translating every one of our dozens of department and room names, including words like mothers room, shower and front door for our team members.
At our Te Kuiti, Te Awamutu and Hawera and Motueka The Warehouse stores, local Kapa Haka school groups were invited to preform for customers throughout the week. You can view those performances on our Instagram here.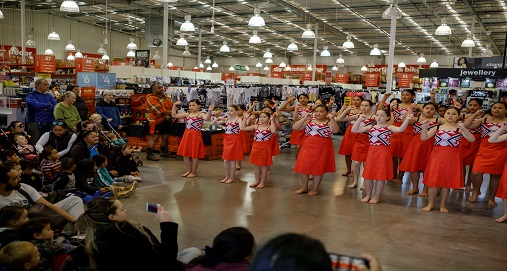 At several of our Noel Leeming stores, the built-in cooking centres provided free samples and cooking demonstrations of traditional kai to shoppers, from watercress salad to Rewana Bread and more.
Team members at our stores around the country were also encouraged to greet customers and each other in te reo Māori. To support this, we've provided every store with stickers and phrase cards with basic greetings.
At our Store Support Office, we've been working with Precious Clark, MD of Maurea Consulting, over the last few months to provide cultural advice around all things Māori for our internal and external events.
Clark has recently taken our senior leadership team through all-day sessions in cultural competency to explain key cultural concepts and history and to introduce some basics in te reo Māori, including learning a mihi and pepeha.
During Māori Language Week, the 1,200 team members at our Store Support Office had the opportunity to participate in daily courses and events, from learning basic phrases and a pepha, to a lesson in Maramataka (living according to the different phases of the moon and stars), a Māori history and culture session and Māori-inspired food trucks serving up delicious kai.
These sessions are recorded and streamed live into our internal Workplace platform so all 13,000 of our team members can take part, regardless of location or scheduling.
These events and activations across our network also symbolise our commitment to a broader diversity and inclusion strategy. Part of our strategy for the next year involves encouraging our diverse workforce to join reference groups, which we'll turn to for consultation and collaborative thinking on which activities, events and benefits matter to those groups the most.
Back to news
Subscribe for news updates