'Warehouse in the Community'
Our Partnerships
The first Red Shed was opened for business by Stephen Tindall over 30 years ago. Right from the beginning, The Warehouse has put our customers, our people, our communities and the environment at the core of what we do its part of our DNA. In fact, it's part of our Core Purpose; the very reason why we exist
Community and Environment is one of our key result areas and we continuously seek to improve and build on our heritage. To find out more about our Environment programmes click here.
Kiwis tell us that they want companies to do the right thing and, through our company history, millions of Kiwis have partnered with us to provide more than $40,000,000 to thousands of community organisations. In 2013 The Warehouse Group Foundation was established to help us support even more community organisations. To find out about The Warehouse Group Foundation click here.
Our goal is to enhance the lives of families and young people throughout New Zealand by developing partnerships with community organisations at a national, regional and neighbourhood level.
The Warehouse continues to focus on working with organisations that support families and young people in three key areas: education, well-being and youth employment working at a national, regional and neighbourhood level. Please see further information below: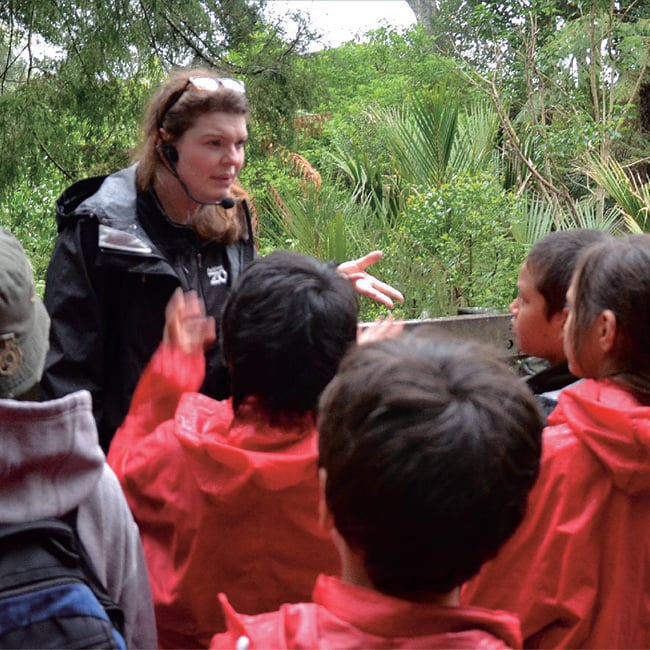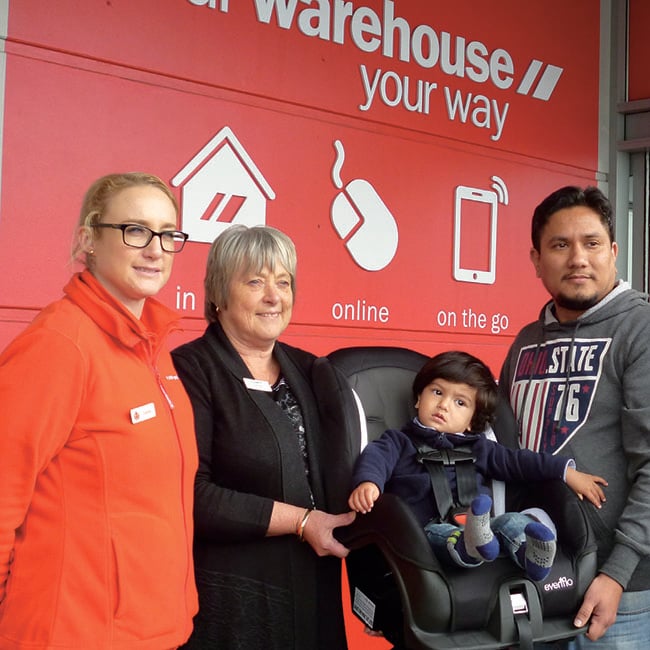 Shielded website
One of the most exciting extensions of our community partnerships occurred with Women's Refuge and saw the company being the first business to provide a 'Shielded Website' on our own website that enabled people to access the Women's Refuge site without fear of an abusive partner being able to trace their viewing history. This will make it much safer and easier for people in an abusive relationship to gain the help they need.
Wild about conservation
The Warehouse Zoofari Programme saw Orana Wildlife Park join Auckland, Hamilton and Wellington Zoos in this excellent initiative that enables kids from low-decile schools to visit zoos and learn about conservation and the environment, as an integrated part of their school learning programme. More than 7000 children from Kaitaia to Auckland, the Waikato, Wellington, Nelson, Marlborough, Canterbury and Greymouth have participated in this programme.
Youth employment
Youth employment is a crucial issue in New Zealand and The Warehouse has been operating its 'Red Shirts in Schools' programme in conjunction with Industry Training Organisation, Service IQ, for many years. The Red Shirts in Schools programme provides Year 11 to 13 students nationwide the opportunity to glimpse into the working world. They are taught about health and safety, and customer service skills, all while earning credits towards their NCEA qualifications. Students' report they have increased confidence and self-awareness as a result of partaking in the programme, which provides them with practical work experience and forms a great foundation for their CV. Since it was first launched in 2009, more than 7,700 secondary-school students have taken part in this initiative.
The success of this programme has seen The Warehouse partner with the Ministry for Social Development (MSD) to extend access to 18 to 24-year-olds not in education, employment or training. The Red Shirts in Community programme provides 16 to 24-year-olds with a foundation to equip them for future job applications and placements through supported work experience. It allows them to gain insight into the working environment and on completion they are awarded The Warehouse 'RSIC Customer Service Award'. The participants' most common feedback was that their confidence increased tenfold and they had grown as a person. After a pilot in three locations which saw a significant percentage of participants gaining employment, MSD and The Warehouse have extended this programme to other areas and we are excited about the possibilities it has in helping to address the issue of youth unemployment across the country.
Connecting communities
Plunket is an iconic Kiwi organisation that has helped millions of babies thrive over the 108 years of its existence. This year, our partnership with Plunket evolved to see us helping connect Plunket with those it sometimes struggles to reach by offering access to Plunket and its services such as mobile clinics and car seat checks in a number of our stores.
The Warehouse also stocks Plunket-approved car seats ensuring baby's safety and donates between $5 and $10 per car seat sold.
Helping our team be the best they can be

The Warehouse is committed to helping our team be the best they can possibly be, not only in developing their work skills but also in helping them in their daily lives. Our team members participate in a range of programmes covering literacy and numeracy, financial literacy, life planning for over-50s, and well-being.
Literacy and numeracy
The 'Understanding Words and Numbers' literacy and numeracy programme, in partnership with Literacy Aotearoa, has provided real benefits to many of our team members. The programme provides participants with the required skills and knowledge to improve their literacy and numeracy both at work and at home. Those who elected to participate in the programme have the opportunity to obtain NZQA credits. Many team members report that this initiative gave them a second chance to learn what they didn't have the opportunity to learn while at school.
Financial literacy
'You and Your Money' is a financial literacy programme offered to The Warehouse team members in partnership with the Commission for Financial Capability. It covers a range of topics from budgeting to superannuation.
Well-being
In 2014, we began exploring what well-being for our team would look like and how a framework could support them to 'be the best I can be'.
An initial four-store pilot developed into a well-being programme. National and international empirical evidence supports the return on investment in well-being and encourages team members to make healthy choices. This pays dividends with reduced absenteeism, presenteeism and on-site injuries, as well as increased engagement, business profile and productivity.
Store well-being champions and teams, in consultation with team members, identify target areas around nutrition, exercise, smoking cessation and emotional support. Under the umbrella of the Mental Health Foundation's '5 Ways of Well-being', store and external activities are organised to build health literacy capacity for the team, their whanau and the community to improve health outcomes.
Working in partnership with local and national health providers and promoters, The Warehouse stores are leading the way to have workplace health a significant contributor to individual health knowledge and awareness of local health services, with an opportunity to participate in community activities to benefit all. Working with Healthy Families, a Ministry of Health initiative in 10 settings across New Zealand, has enabled our teams to be supported with their well-being programmes at a local level. The Healthy Families initiative is the conduit to ensure those with needs and knowledge gaps can access appropriate services and information.
It has been gratifying to have national government organisations use The Warehouse Well-being Workplace model as an example for other businesses to take up the challenge to utilise the workplace space as a way to inform and encourage better health choices. The positive feedback from our team, our customers and the community will continue to drive innovation as we contribute to solutions for better health outcomes for New Zealanders.